The University of Toronto is Canada's top university. It is considered as one of the top universities ranking. It continues to rank among the top universities in Canada and the world.
Table of contents:
Location

The U Of Toronto Campus

Courses that the U Of T offers

Scholarships

Popular Programmes of the U Of Toronto

Frequent questions about the U Of T
1-Location
The University of Toronto (U Toronto or U of T). It is a public research university in Toronto, Ontario, Canada, located on the grounds that surround Queen's Park.
2-The U Of Toronto Campus
The Campus is home to some of the most prestigious architecture and beautiful green spaces in the Greater Toronto Area and Mississauga.

The U of T offers an extraordinary environment for students to learn and work.

It is segregated into three campuses. They are the University of Toronto Mississauga (UTM), the University of Toronto St. George campus, and the University of Toronto Scarborough (UTSC).

The campuses are located in the most vibrant urban environments that are dynamic.

Toronto has everything from sports teams to cultural happenings, festivals to street fairs.
3-Courses that the U Of T offers
The University offers over 700 undergraduate and 300 graduate programmes in a wide variety of subjects.
It offers courses in
-Humanities & Social Sciences,
-Life Sciences,
-Physical & Mathematical Sciences,
-Commerce & Management,
– Computer Science,
– Engineering,
-Kinesiology & Physical Education,
-Music, and Architecture.
The university does not believe that one-size-fits-all and provides a variety of in-depth academic options that are tailor-made courses to suit the student's unique interests.
4-Scholarships
For international students to manage tuition fees and other living expenses.

It is, along with its colleges, faculties, and divisions, administers over 5,700 admission awards that total nearly $36 million.
The majority of our admission scholarships for international undergraduate applicants are automatically awarded as a part of the admissions review process.
The two major admission awards are:
– the University of Toronto Scholars Program
-the President's Scholars of Excellence Program.
Lester B. Pearson International Scholarship Program, Joseph L. Rotman Scholarship, U of T Mississauga Guaranteed Entrance Scholarship, etc. are some of the popular scholarship programs for international students.
It is a rich network of 640,000 alumni who are exploring new frontiers in their careers and communities and creating positive change all over the world.
U of T graduates are encouraged to reap the benefits by establishing lifelong connections and accessing countless opportunities to learn, network, grow and give back to the community.
Some of the notable alumni at the university are :
-William Lyon Mackenzie King (longest-serving Prime Minister in Canadian history),
-Lester B. Pearson (Canadian Prime Minister and winner of the Nobel Peace Prize in 1957),
-Julie Payette (CSA astronaut and the 29th Governor General of Canada, MASc),
-Jennie Smillie Robertson (First female surgeon in Canada, MD).
5-Popular Programmes of the U Of Toronto

1-MS( 1 year-3years)
2-MBA/PGDM(20-32 months)
3-MIM(10 months-2 years0
4-MEng(1 year-16 months)
5-B.E./B.T.Tech(4 years)
6-MASc(20 months- 2 years)
7-M.A.(1year -2 years)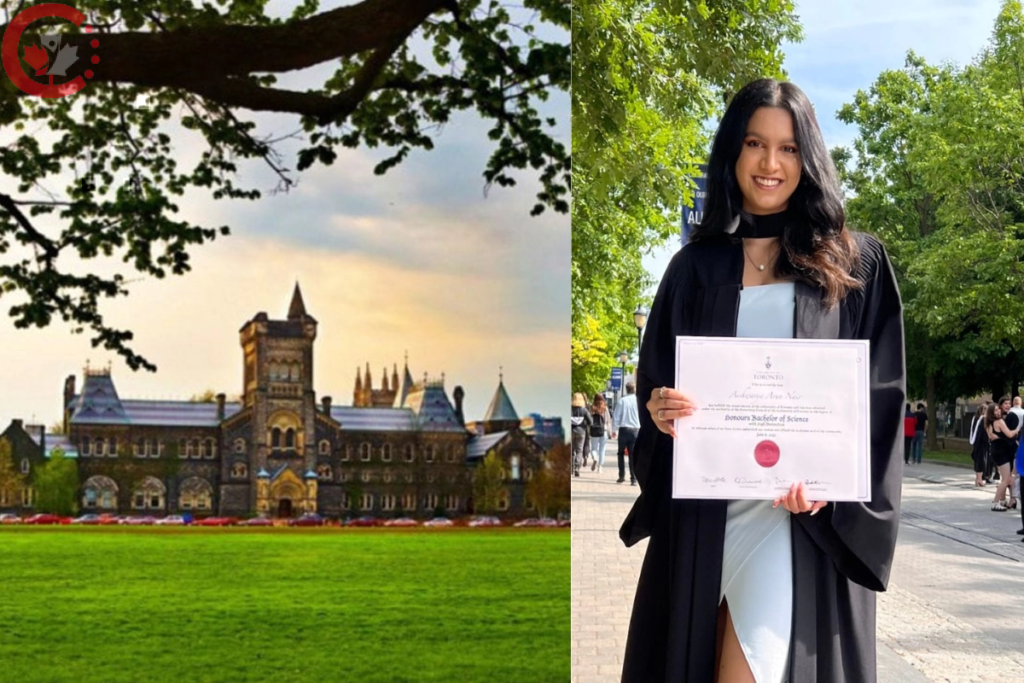 6-Frequent questions about the U Of T
Q-What is special about the University of Toronto?
A-It is Ontario's oldest universities. Besides, it is one if its most well-known institutions. It also ranks as the top university in Canada and one of the top universities worldwide. In other words,it is one of the most attractive options for both Canadians and international students.
Q-What subject is U of T known for?

A-Some of the most popular areas of study pursued by students at the University includes: Biology, Engineering and Social Sciences.
-In addition,the University of Toronto offers over 700 undergraduate programs in different fields .
Some of them are :
social sciences,
life sciences,
computer science,
commerce, arts,
humanities,
engineering,
mathematics and more.
-The institution also offers professional programs in nursing, pharmacy, dentistry, law school, education and medicine.
Q-Is University of Toronto hard to get into?
A-Its admission process is competitive. Students are judged on a variety of factors. For instance, academic history, application materials, auditions, or other related supplements.
As long as your high school average is above 90%, UofT won't be so hard to get into. However, there is evidence that the acceptance rate went down in recent years. Besides, the entering average has risen above 93% for some programs.
Q-What GPA do I need to get into University of Toronto?
A-The minimum acceptable GPA for undergraduate applicants is 3.6 on the 4.0 OMSAS scale. Based on recent admission statistics, a GPA of 3.8 or higher is considered competitive for admission.
For graduate applicants, the minimum acceptable GPA is 3.3 on the 4.0 OMSAS scale.
Q-Is University of Toronto free for international students?
A-It is not totally free. However, there are a lot of scholarships offered by U of T.
Q-How is life at the University of Toronto?
A. Students enjoy an eclectic atmosphere at the campus. Each campus has a dedicated team to provide students with the required support, opportunities, and resources.
Q. Is there an age limit to study in Canada?
A. Minimum age limit is 18 years.
However, the age limit varies with the province.
To be eligible for a work permit, you must be between 18 and 35 years of age.
WATCH THE FOLLOWING VIDEO TO MAKE A TOUR WITH A CURRENT U of T STUDENT
WE ALSO RECOMMEND:What is the University of Alberta Scholarship
Applying for the IEC Program
Applying for the IEC Program