Accommodation And Study Costs at University In Canada
Studying and living in Canada is very affordable compared to many countries. Accommodation and Study Costs at University In Canada avary across provinces and programs.
Table of Contents
Introduction to Accommodation And Study Costs at University In Canada

Universities' fees in Canada

Student accommodation in Canada
Introduction to AccommodationAnd Study Costs at University In Canada
Canada is one of the world's most popular destinations for international students. It offers a diverse variety of experiences and opportunities. This country is known for its vast expanses, multicultural cities and natural beauty.
Canada has great universities according to world records. Nowadays, many people ask questions about studying and living in Canada.
Is it expensive to go to university in Canada?

Is Canada cheap to study?

How expensive is Canada for international students?
-The Council of Ministers of Education, Canada (CMEC) offers a useful online tool which allows prospective international students to quickly calculate the costs of studying at different universities in Canada, as well as providing guidance on the documents needed to apply.
-Education in Canada is free from kindergarten to secondary school, based on the Canadian Constitution.
There are no free-tuition universities in Canada.
However, there are several universities that are affordable and relatively cheaper compared to the rest of the other countries.
– It is worth mentioning that students may find some difficulties to bear the various financial burdens of the different study costs at University In Canada.

-That is why the government has tried to organise programs called scholarships.
Accomodation and living in Canada may also vary like according: You would need between 800 – 1,500 CAD/month for most provinces, such as Quebec, Montreal, and Ottawa.
Accommodation And Study Costs at University In Canada: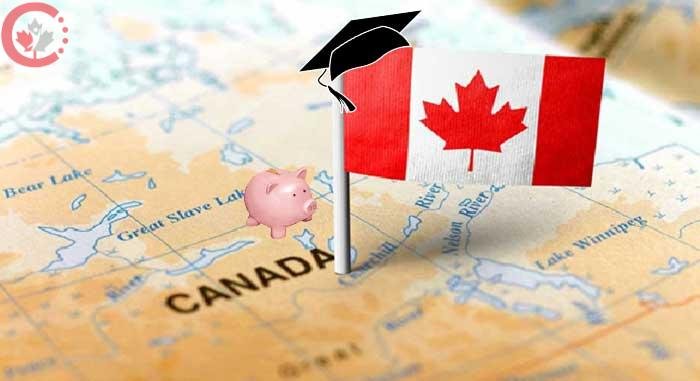 1-Universities' fees in Canada :

Universities in Canada set their own different fees. the fees depend on the program you're studying, whether you are an international or home student, or you are an undergraduate or postgraduate student.

Fore more information about the tuition fees, you can click here
Each university in Canada chooses

how much

it will charge its students

for tuition
The average that a Canadian citizen pays on $6,500 or £4,300 a year of studying in Canada.

International students pay more than Canadian citizens $20,000 per year.

Engineering and medicine usually cost more for international students $30,000 per year.

Arts and humanities programmes are well below that.

Business and management courses are around $20,000.
Postgraduate degrees vary in length between a year and three years' full-time study.

A postgraduate degree will cost approximately $7,000 per year, although some can cost $22,500 annually.
2-Student accommodation in Canada
There are several student accomodation options.
Ahomestay

University accommodation

Private accommodation

The main housing options for students in Canada are:
Student residences: 250 – 625 CAD/month

University-arranged homestays: 400 – 800 CAD/month

Rent & share an apartment: 300 – 700 CAD/month, prices for rent depend on location and facilities. If you choose to rent a studio/one-room apartment, you can pay over 1,000 CAD/month.
When you rent an apartment or studio,

it comes with extra costs:

basic utilities (electricity, water, heating, garbage): 150 CAD/month
internet: 50-70 CAD/month
Watch the video to get more information:
You may like : What is the University of Alberta Scholarship